Email Marketing Campaigns
Your list of email addresses can be an asset, but only if you have a rock-solid strategy to use them.
The right email marketing strategy can engage and develop prospects into loyal customers. Are you ready to manage the day-to-day complexities of sending consistent and ongoing email marketing campaigns?
Email marketing campaigns provide among the best returns on investment of all digital marketing strategies.
https://youtu.be/Rv8f6Omj2D4
Acquiring the email addresses and sending out messages through email is a proven way to engage your customers and keep them buying your product or services. The latest metrics show that email is still returning an immensely positive ROI.  
For every $1 spent in email marketing the return is $42. That is a 4200% return on investment!
But the key to email marketing success is consistency. You stop sending messages to your audience and you will find your email list, no matter how large or small, unsubscribing or even worse: simply ignoring your email messages. First, you need to acquire the right prospective clients' email addresses for your list. Then you need to have the right content management strategy, a good data cleansing strategy, and ensure you are abiding by the laws that impact email marketing like CAN-SPAM and GDPR.
That's where W3 Group Marketing can help. For the past 15 years, the W3 Group Marketing team has been helping businesses just like yours develop and implement the right strategy for email marketing. Our email marketing specialists will help you to:
Find the right email service provider (ESP) for your business without breaking your budget

Develop a plan for acquiring relevant email addresses

Develop the right automated email marketing campaigns (drip campaigns)

Develop email templates that allow you to do just in time messaging without coding HTML

Develop a messaging calendar that's right for your customers

Manage your email list and Customer Relationship Marketing (CRM) database to ensure you keep your list current

Develop A/B and multivariate tests to drive constant growth

Apply industry best practices that will keep your audience responding to your email content
Very quickly, we can develop a messaging strategy that aligns with your brand and creates the loyal engaged customer you need to keep your business growing.
Let's get started customizing an Email Marketing Strategy that's right for you.
Do you think that email marketing is something that was hot last decade, but has since fizzled out?  Besides, today, online marketing is all about social media and blogging, right?
That's not quite accurate, though those methods among others can be powerful, especially when used in a strategic, integrated way to generate real results.
Email marketing campaigns are still effective and widely used by companies of all types and sizes across the globe.  As one of the easiest ways for any company across the globe to stay in touch with their target market, it's not going away anytime soon.  In fact, studies show that the return on investment for email marketing is still much higher than just about any other method.  According to the Direct Marketing Association each dollar invested in email marketing yields an ROI of $32.00. That's far better than many methods, and certainly a lot better than a bank CD whose rates don't even always keep up with inflation!
But coming up with an effective email marketing strategy and managing it on a daily basis can be difficult for small businesses to handle alone.  Even if you do have a customer database or a list of email addresses, what are you doing with that valuable information? If it's just sitting there, gathering digital dust, it's not doing you any good. If it's all on paper in a filing cabinet, that's even worse.
We can help you use, and build upon, this valuable resource so that you can generate sales on demand (for some industries), stay in front of your ideal customers, build your relationship with your subscribers, keep them informed of important topics, new developments, and more.
We specialize in helping companies just like yours build targeted email lists filled with subscribers who are most likely to purchase from you.  We provide email marketing campaign services strategically designed to work together with other marketing methods, both digital and traditional, to help you attract more of your ideal clients, patients or customers.
Simple strategies combining proven methods and email marketing best practices can deliver an even higher ROI than those same methods done individually.
For example, if you combine video marketing with SEO and a free informational report helping your clients choose to do business with you can be a powerful way to grow your email list, giving your email marketing campaigns a wider reach, and increase your sales over time.  Using paid ads to grow your list and incorporating effective copy writing (selling with the written word) can be a fast way to catapult your sales to the next level.
If your business has a very short sales cycle, email marketing campaigns can lead to very quick boosts in sales.  If your company's sales cycle is longer, the right email marketing strategies can nurture your prospects into clients over time.
Doing the right things to improve your email deliverability helps your message get out to your subscribers.  Everything we do is, and must be, in full compliance with the CAN-SPAM Act in the US, GDPR in Europe, and so on.   You don't want to risk potentially being fined as much as thousands of dollars per email.
Besides, your purpose is to help your customers, not barrage them with unsolicited messages and unwanted sales pitches.  The messaging in your email marketing campaigns should be designed to bring you and your customers closer together, so that they buy more from you because they want to.  Being closer to your clients also leads to better online reviews and more referrals, so it's a win-win-win.
If you're ready to finally capitalize on the profitable benefits of email marketing campaigns, particularly combined with other proven marketing strategies and attract more of your target clients, contact us today at 404-669-6682.
PR News names W3 Group Marketing among Top Email Marketing Companies for 2023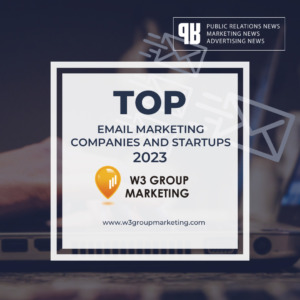 Corporate Vision MarTech Awards Most Client-Focused Digital Marketing Agency - North America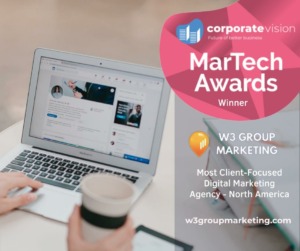 W3 Group Marketing President David B. Wright voted Best Local Author in Creative Loafing's Best of Atlanta 2016 and 2017!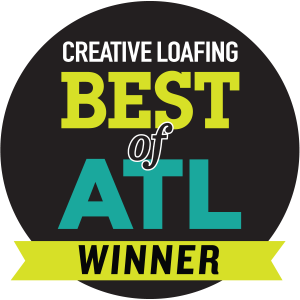 Proud Member, DeKalb Chamber of Commerce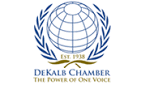 Proud Member, Georgia Hispanic Chamber of Commerce