Online Reputation Management
Your customers are researching you and reading reviews of your business. Are you happy with what they'll find?
Implementing an online reputation strategy does more than just protect you against bad reviews. Good reviews can instantly lend word-of-mouth credibility to your business and help it thrive.
Not surprisingly, studies show that around 96% of customers look at online reviews before choosing to buy a product or service. One bad review can send them running to your competition. Old reviews or no reviews at all can leave the impression that your company is not actively in business and sends prospective customers running to your competition.  So how about you? How is your company's online reputation?  
Managing your online reputation can be difficult and time-consuming but W3 Group Marketing can help. One of our Online Reputation Management specialists will work directly with your business to do three key things:


Reputation building

– making sure that your business is showing in places like Google Local Search, Facebook, Yelp, Angie's List, etc., and that you have a strategy to actively solicit reviews from your customers.
Reputation management

– making sure that you're actively managing reviews. This involves managing bad reviews with personal attention and good customer service. A bad review that is managed well could become a loyal customer that is bragging to his friends about your product or service.
Reputation marketing

– Taking great reviews and amplifying them, letting that positive word-of-mouth drive more of that sort of customer straight to your doors.
So let's work together and build a strategy to manage your online reputation.
Online Reputation Management, or ORM, is continually growing in importance, both to attract more customers and to stop the negative impact of bad reviews that keep customers from doing business with you. 
Studies have shown that around 96% of customers look at online reviews before deciding to do business with a company.  One bad recent review can send them to your competition.  Your reviews need to be current, too, so it's an ongoing process.  Other studies have shown that reviews older than six months aren't taken as seriously. Especially with the impact of Covid-19, pre-Covid reviews are viewed as almost worthless.  
Right now, you may be wondering, "what are consumers saying about me and how is it impacting my bottom line?"  Or you may be well aware of what reviews people are posting about your business, but don't know how to respond properly, or even where to look for reviews. 
You can use our free tool to check your online reviews and other online presence here.  
Google My Business (Google Maps), Facebook, Yelp, TripAdvisor, Home Advisor, and many other sites allow people to post reviews about your business.  Amazon and other sites do the same thing for their sellers and products. 
Each site has their own standards, rules, and so on.  Amazon, for example, highlights reviews with "Verified Purchase" if they know that the reviewer has purchased the product from them. 
Yelp, for example, hides reviews they consider not as "relevant" – they don't disclose exactly how they determine this, though they do seem to show more reviews posted by "Active Yelpers." So if a reviewer has only posted one review or only a few, Yelp doesn't give their review as much weight.  Businesses can also pay Yelp for advertising, and some allege that this also shows the "hidden" reviews, which remain hidden if a business chooses not to advertise on Yelp.   
What is Online Reputation Management?
Online Reputation Management, or ORM, is how businesses both attract more good reviews and mitigate potential damage from bad reviews.  Effective online reputation management can help your target customers see the most positive aspects of your business, and help you capture more of those prospects who would otherwise go straight to your competitors, improving their bottom line instead of yours. 
There are actually three main components to online reputation management: 
Reputation building – getting more reviews in the first place.  Many businesses don't really know how to start with this, or don't have a clear, effective plan in place to continually get more reviews from their happy customers. 
Reputation management – responding to your reviews in the right ways.  Too many businesses allow frustation and even anger to seep through in their responses, which can hurt your business more than help it. 
Reputation marketing – leveraging those great reviews you get to help you attract more of your perfect customers, patients or clients.  
Did you know that one negative online review or comment has the power to destroy your company's ability to generate leads?  Especially if you don't have any (or enough) positive reviews to overshadow it.  Consumers naturally trust what they read about products, services and companies online. 
This is called "third-party credibility."  People tend to believe what others say about a business much more than what the business says about itself. 
Just as positive reviews can influence people to purchase from you, negative ones can influence them to stay away.  And, unfortunately, negative reviews hold more weight.  
Sometimes how a business responds to a bad review can help them more than ignoring it and hoping the problem will just go away. Done just right, it can even help more than a bland positive review!
Maybe you're already suffering a loss in revenues due to a negative reputation… either way, our team of online reputation management experts are here to ensure that consumers are immediately presented with positive vibes when coming across your brand online. 
How do I know if I have an online reputation problem? 
If you have less than a four star rating (out of five), or if you have negative reviews, you probably could benefit from an online reputation management campaign.   Even if you have a high rating, just a few negative reviews can drive potential customers away from you and towards another business.  "Bad Reputation" earned a Gold Record for Joan Jett, (YouTube video link) but a bad reputation for your business can cost you a ton in lost revenue.
Search Google or other search engines for (your company name) and "reviews" – you'll either see a lot of results come up, or maybe some with 0 reviews.  You can easily see how these reviews portray your business.
Here's an example of an actual portion of an initial discovery study we did for a client in the home services business (of course with their name removed due to confidentiality) showing an at-a-glance overview of some of their online reputation management problems and successes: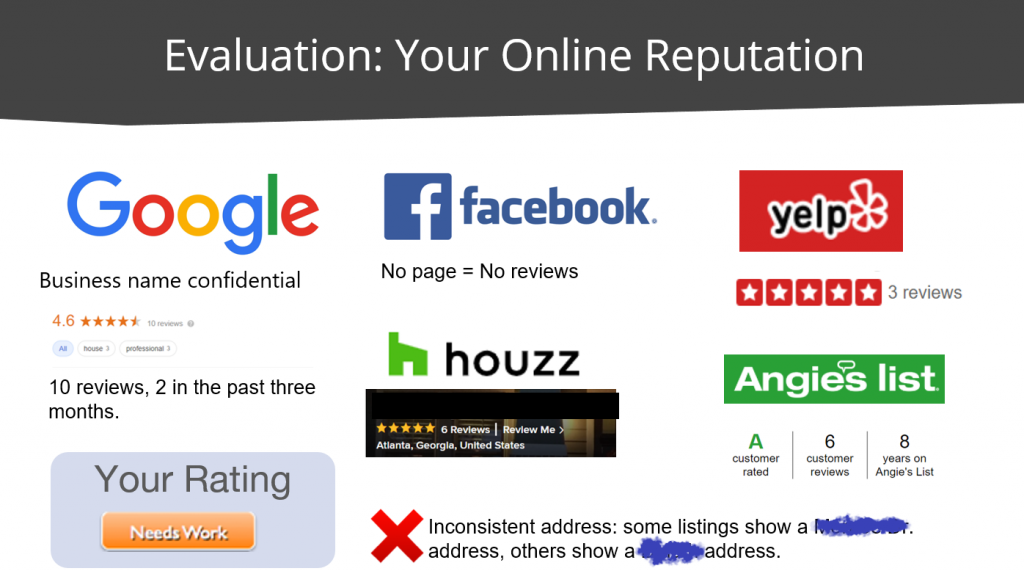 It's also important to consider the type of business when determining how many reviews are good or not enough.  For example, many of our clients are ongoing, long-term clients, so we have fewer clients overall.  A restaurant, café, bar, retailer, or other business that relies on attracting a LOT of customers will likely have more reviews.  A handyman or electrician might service a lot of clients and get many reviews, whereas a remodeling company who does larger projects might get fewer reviews.
Unfortunately, the old adage of "a happy customer will tell three friends, an unhappy one will tell ten" is multiplied even farther with online reviews.  Unhappy customers do tend to post reviews more often than happy ones. 
The good news is, no matter what your situation (unless you're one of those bad companies who deserve a bad reputation – if this is you, don't call us!), there are strategies to help your online presence get better through effective online reputation management services. 
How can W3 Group Marketing help with your reviews? 
We can actively monitor your reviews on dozens of sites, help you respond appropriately to both bad and good reviews, and help you attract more good reviews. We can even help you with ways to make you aware of problems with customers that you didn't even know about, so you can help resolve them and many times even convert a dissatisfied customer into a happy, repeat customer.  
We can also use your great reviews to help you attract more of your ideal prospects, through using them in images, videos, gifs and much more.  This is where online reputation management becomes reputation marketing.  
If you really want to capture leads, while they're hot, and make an outstanding first impression, don't delay and contact us today at 404-669-6682.
DISCLAIMER: We ONLY work with good, ethical companies who provide excellent products and/or services.  If your company takes advantage of people, we will not help you.   We don't put lipstick on pigs.  
Case studies:
One business we worked with received a very negative review from a customer and were about to respond with a reply to "set the story straight."  They sent me their response before posting it, and I helped them change their message to remove a potentially very angry tone from it.  Instead, we posted something more genuinely apologetic and actually helped the customer see that the owners weren't bad people after all – just human, and we all make mistakes.  But mistakes are for learning and growing from, and a little empathy with their situation went a long way. 
Another business, this time a local restaurant chain, used to get a lot of reviews, but the flow of reviews came to almost a complete stop.  We helped them identify the root of the problem, make the changes necessary to fix the problem, and within weeks they were getting dozens of positive reviews each and every week. 
We used a few of a law firm client's great reviews in several videos, which not only ranked on Google for a number of search terms (such as "(client name) reviews") but helped them attract even more of their ideal clients.  
###
Some of the links in this website are "affiliate links." This means if you click on the link and purchase the item, we will receive an affiliate commission. Regardless, we only recommend products or services we believe will add value to our readers whether or not there is a material connection to the brands, products or services that we have mentioned.